Written by

Joel Pacheco Gonçalves
Meet the Rio Grande Valley
McAllen, aka City of Palms, is found in the middle of a flat and relatively dry agricultural area known to its residents as "The Valley," otherwise called the Rio Grande Valley named after the Rio Grande river that serves as a natural border between the U.S. and Mexico.
Due to its geographical location, McAllen has historically remained untouched by major weather emergencies when compared to cities like Dallas or Houston which are regularly impacted by natural disasters.
Earthquakes
McAllen is ranked as the lowest at-risk city in Texas for an earthquake event to occur with an Earthquake Index of 0.000. The Dallas-Fort Worth area, however, is listed as a 0.04 and ranked in the top 200 cities most likely to be affected by an earthquake in Texas. Also, the USGS National Hazard Map shows that the risk of an earthquake in Dallas has grown tenfold.
McAllen, though, is well over a thousand miles away from the closest earthquake fault line keeping your assets and our infrastructure safe from an earthquake or landslides.
Tornadoes
McAllen is also a low-risk area for tornadoes. According to records, the largest tornado in the McAllen was no larger than an F3 and it occurred almost over 40 years ago.
Cities like Houston and Dallas are at very high risk for tornadoes averaging more than five dangerous tornadoes a year in each city. According to USA.com Natural Extremes data, Houston and Dallas have a Tornado Index 65% higher than the Texas average and almost triple the nation's index.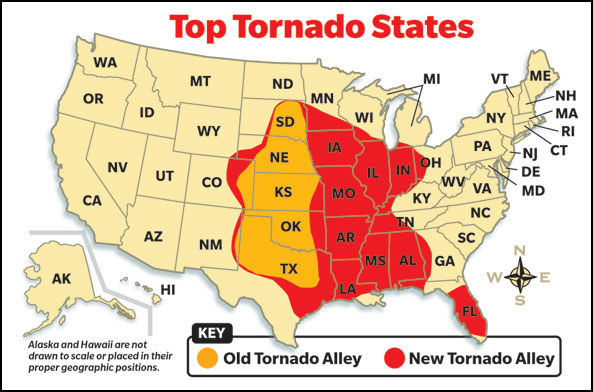 Tidal Waves
The closest beach, South Padre Island, is distanced just shy of a hundred miles away from our data center keeping us safe from tidal waves and other water-related disasters.
Hurricanes
Throughout McAllen's recorded weather history, there has yet to see a serious hurricane or storm to make landfall directly over the area and remains as a low-risk area compared to other Texas cities closer to the Gulf of Mexico.
The Dallas and Houston metro areas, on the other hand, may experience more than three or four major hurricanes a year. The Houston area, in particular, is listed as "The Worst Place for Hurricanes in America" and is ranked as one of the top three cities that experience frequent power outages during these environmental events.
McAllen's benefits for carriers and network operators
McAllen is a safe place far away from disasters, and for us, at MDC Data Centers we guarantee not only a top-notch colocation and interconnection services but also the peace of mind of having your assets in a secure and dependable facility in a strategic location.
Carriers and network operators can gain access to the largest concentration of Mexican networks in one place at MDC McAllen, which features a fully redundant infrastructure and International Fiber Crossings, MDC in McAllen represents a reliable gateway to Mexico for global network operators and content providers.