Written by

MDC Newsroom
The benefits of internet exchange points (IXPs) have now been well documented for over a decade. Around the world, IXPs bring together Internet service providers (ISPs) and content delivery networks (CDNs) to exchange Internet traffic between their networks.
This collaboration has helped provide local communities around the world better internet quality at lower operating costs. In some countries these savings have reached 20%, especially in instances where local traffic made up the majority of an ISP's overall traffic.
Like a domino effect, these improved conditions attract more international operators which then creates better business opportunities that spark innovation.
For example, a study by the Internet Society conducted to measure the impact of IXPs in sub-Saharan Africa concluded that the introduction of the Internet Exchange Point of Nigeria (IXPN) in Nigeria led to a direct decrease of over $1 million dollars USD on international connectivity costs for local operators.
The IXP also encouraged Google to establish a cache in the country as the first step in their plans to help the communications between universities. Additionally, the IXP helped bring externalized financial platforms for online banking services back to the country.
Another study by Ripe NCC showed that from 2008 to 2016 IXP deployment around the world more than tripled and in most regions memberships increased as privacy concerns and the desire to keep data more sovereign grew. By 2018, the percentage change in IXP growth for all regions reached double digits.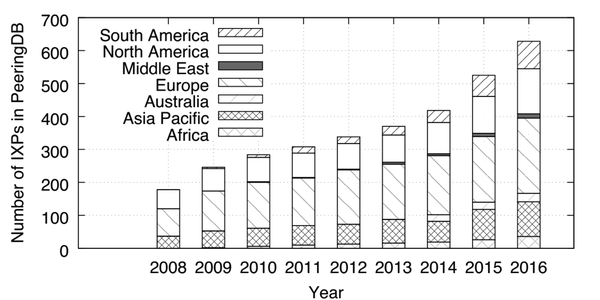 Figure 1: Evolution of the number of IXPs per region by RIPE NCC
---
Overall, this boost in IXPs helped shorten paths to "hypergiants" and reduced the general dependency on Tier-1 transit providers. While smaller and less centralized autonomous systems (ASes) have on the whole embraced IXPs, larger more central networks have reduced their use of public peerings.
Key Challenges
Despite the many benefits IXPs provide, organizing and establishing them come with many challenges.
Collaboration & Trust
Setting up an IXP can be, as the Internet Society describes it, "80 percent social engineering and 20 percent technical engineering." It requires the collaboration of many entities, some of which may be in competition with each other. To overcome this challenge, trust among participants needs to be developed and many times this can prove to be very difficult.
Neutrality
Most successful IXPs are a result of neutral management and locations. Both the location and the managing operator should ideally be independent of external influences. Unfortunately, it is often the case that certain commercial or government entities try and control all aspects of an IXP which leads to failing confidence and trust in the IXPs management. This is why carrier-neutrality is essential.
Enabling Environment
Factors like tax and investment constraints, higher costs of local terrestrial fiber, and complex rules for network deployment can inhibit IXPs. Fostering an enabling environment helps create a stronger IXP ecosystem.
The Evolution of IXPs in LATAM
According to research by the Organization for Economic Cooperation and Development (OECD) affirmed that countries with fewer IXPs experienced more cross-border data flows and as a result, IXP growth climbed even more in emerging economies.
In June of 2017, Latin America was home to 61 IXPs and by September of 2019, the count had reached 89 IXPs (a 37% increase).
By and large, IXP growth in Latin America has been driven largely by Brazil – which has hosted more than half of Latin America's IXPs for most of the history of the Internet's expansion in the region. Brazil's success has been a product of several factors:
The Brazilian Internet Steering Committee planned for the long-term, with a consistent strategy of economic development, rather than short-term one-off projects
Brazil's IXPs are among the few in the world that are a product of a considered and intentional economic model
The Brazilian Internet Steering Committee gathered important feedback and made a careful investigation of CityLink, the New Zealand IXP system, and the SeattleIX.
In contrast, Mexico, which has the second-highest number of internet traffic in Latin America, has not experienced the same success with IXP development. In 2012, a review of Telecommunication Policy and Regulation in Mexico by the OECD noted that Mexico was the only member state that did not have an IXP and highly recommended for the country to establish one to incentivize the creation of local content and data center infrastructure.
The IXP Journey in Mexico
After the OECD's recommendations were made public, one of Mexico's dominant provider argued against establishing an IXP and stated that it was ultimately not necessary. To support their stance, they argued that local content in Mexico only made up 0.6 percent of the internet traffic and it did not justify setting up a local Internet exchange but companies, like Kio Networks, responded by pointing out that IXPs would provide the country with greater sovereignty over data generated by local users.
By 2014, following substantial changes in legislation introduced in the previous year and the official formation of the Consortium for Internet Traffic Exchange led way to the establishment of the first IXP in Mexico's capital – with a second IXP recently announced in mid-2018 for Yucatan.
Despite these advances, traffic exchange has remained low in Mexico and it is largely due to the lack of participation by the country's largest telecom operator. A situation that has inhibited further development.
To better illustrate the problem, Oracle gathered data on a week's worth of traceroutes and showed how packets that originating in Guadalajara destined for Mexico City had to travel across the border to the United States – forcing all traffic to cover more ground and be billed transit rates.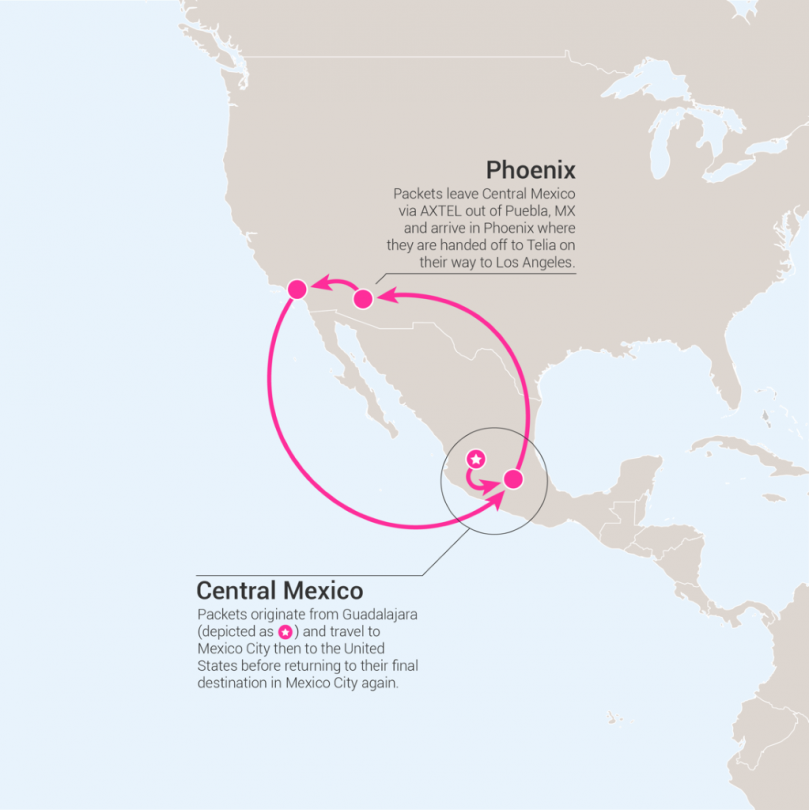 Until Mexico is able to overcome the challenges that are currently present (a lack of trust between ISPs, limited technical expertise, the cost of infrastructure, and the cost of hosting an IXP in a neutral location)  most data will continue to make roundtrips across the border to hubs like the MEX-IX in McAllen, TX.
The MEX-IX's proximity to the Mexican border along with the highest density of Mexican networks in one place, makes this Internet Exchange Point feel local for peering networks in Mexico. This also creates better opportunities for global ISPs and content providers to easily and effectively peer traffic and expand operations in Mexico from the United States.